My May 16 blog post was about recognizing the difference between LIE and LAY. Quickie Reminder: LIE means to recline (as LYING in the grave–see below). LAY means to put or place something (as in LAYING a wreath on a soldier's grave).
Today I'd like to thank Leigh Rubin for his recent cartoon, "Greta the Grammarian," which allows me to remind readers once more about this frequently broken usage rule.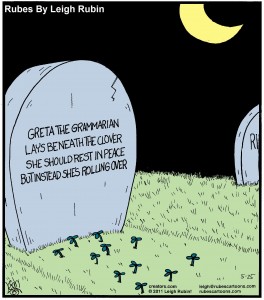 Rubes® cartoon © 2011 Leigh Rubin-Used with permission (www.rubescartoons.com)
Why is Greta rolling over in her grave instead of resting in peace? Can you imagine a grammarian who is always careful to use good English spending eternity lying under an incorrect grave marker? Poor girl!
When I contacted Leigh Rubin about using his cartoon, he told me that the original epitaph was as follows:
Here lays Larry

Pushing up herbs

He's much better at making mulch

Than he ever was with verbs
I like this epitaph at least as well as the one he actually chose.
Just for the record, the correct wording would be:
Greta lies beneath the clover…

Here lies Larry…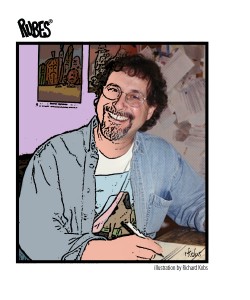 My thanks once more to Leigh Rubin for permission to use his cartoon. Be sure to check out his other work at www.rubescartoons.com.
Tags: word usage