The heated debate about the importance of good spelling continues on LinkedIn (see previous blog post). When I opened my local newspaper yesterday morning, page 8A carried a perfect example of the kind of poor advertisement that can detract from a company's professional image. Today's ad for Patillo Balance and Hearing Center, a respected business in Birmingham, contains not one but SEVEN spelling and usage errors in ONE ad! I believe that is a record in my collection, and I cannot imagine how it got past proofreaders at Patillo and at The Birmingham News. Yoo-hoo, anybody in that capacity on duty?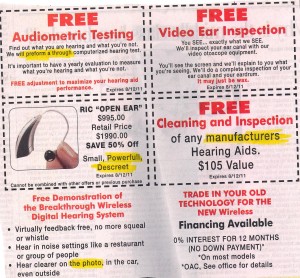 Whoops #1–Although PREFORM is a word, it is not the one needed here. It should be PERFORM, which is what you would want your hearing aid to do when you want to hear. PREFORM means to shape something ahead of time.
Whoops #2–THROUGH is a word, but it is not the one needed here. You don't want a THROUGH computerized hearing test, you want one that is comprehensive (THOROUGH).
Whoops #3 and #4–POWERFULL is simply misspelled. It should have only one L at the end (POWERFUL), and a quick spell check (if someone had bothered) would have caught that one. The same is true with DESCREET, which is not a word at all. You want your hearing aid to be DISCREET (not standing out like a sore thumb).
Whoops #5–MANUFACTURERS refers to the producers of the hearing aids, so possession should be indicated with an apostrophe. This coupon entry should read: FREE CLEANING AND INSPECTION OF ANY MANUFACTURER'S HEARING AIDS.
Whoops #6 and #7–The word CLEARER is a comparative adjective, as in CLEARER hearing or CLEARER sound. CLEARER describes a noun. In this sentence, the writer is referring to the word HEAR, which is a verb. Therefore, the comparative adverb MORE CLEARLY is needed. This is followed by the phrase ON THE PHOTO. I read that three or four times before I figured out that it should have been PHONE, not PHOTO. That sentence should read as follows:
Hear

more clearly on the phone

, in the car, even outside.
Tags: adjectives and adverbs, apostrophe, spelling, The Birmingham News, word usage