Some people think I am overly picky about correct grammar and usage, but I believe most everyone would agree that the ad I've reprinted here is unacceptable. A spell checker, used by either the tinting company or by the newsletter editor who printed this ad, would have caught all five spelling/typos Glitches.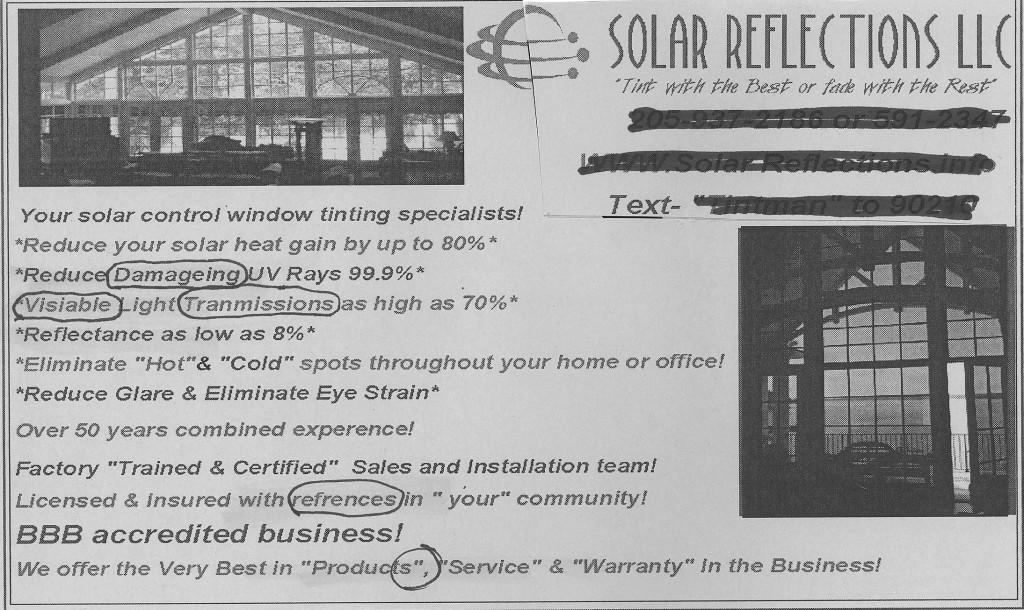 Whoops #1: When converting DAMAGE to DAMAGING, the writer should drop the E before adding ING.
Whoops #2: IBLE and ABLE are similar suffixes that can be added to the end of a word. VISIBLE uses the IBLE suffix, not ABLE.
Whoops #3: The prefix that means "across" is TRANS, not TRAN, so this word should be TRANSMISSION.
Whoops #4: The word EXPERIENCE has four syllables, so the "I" cannot be left out.
Whoops #5: The word REFERENCES comes from the word REFER, so the "E" between the "F" and the "R" cannot be left out.
Whoops #6: Commas always go inside the quotation marks in the USA, as in "Products,"
Whoops #7: It is not a good idea to put quotation marks around the words PRODUCTS, SERVICE or WARRANTY in an advertisement. Quotation marks around a word suggest that it is a substitue for the real thing, which is the exact opposite of what is meant.
The Grammar Glitches above should be corrected this way:
Reduce

damaging

UV rays

Visible

Light

Transmissions

Over 50 years combined experience!

Licensed & insured with references in your community!

We offer the Very Best in Products, Service & Warranty in the Business!
Tags: commas, quotation marks, spelling