My thanks to regular Glitch reader Joe C. for sharing this hilarious example. Yes, even rugs need proofreading sometimes! My friend Linda Beam, who blogs at www.writetothepoint.net and has a Facebook page called Write to the Point, also shared this example.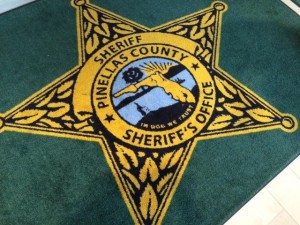 Take a close look at this rug, which graced the floor of the Pinellas County (Florida) sheriff's office for several months before a deputy noticed that the phrase below the state insignia reads, "IN DOG WE TRUST."
The error is a simple reverse of letters, but it is a big Whoops!
Joe reports that the rug will now be auctioned off, with proceeds going to a local animal rescue entity.
Hopefully, a new position–Pinellas County Proofreader–will be established soon.
Tags: spelling