It is not just The Birimingham News that is creating Glitches with its headlines. Regular reader Joe C. sent three examples from Florida recently. Here is the first one: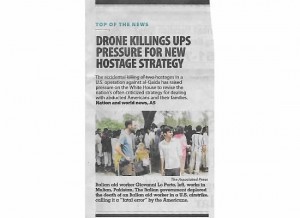 Whoops! DRONE KILLINGS is plural, so the verb used with it should be UP (with no S), not UPS (which is singular). DRONE KILLINGS UP PRESSURE FOR NEW HOSTAGE STRATEGY.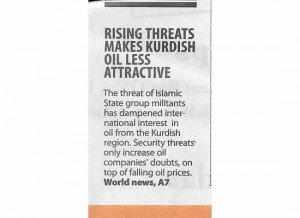 Whoops again! THREATS is plural, so the verb with it should be MAKES (without the S). RISING THREATS MAKE KURDISH OIL LESS ATTRACTIVE.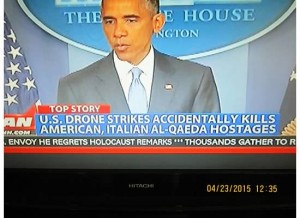 Whoops once more!
Apparently, those who create those pesky crawls at the bottom of the screen are not immune to this Grammar Glitch either. STRIKES (plural) is the subject here, so the verb should be KILL, not KILLS, which is singular. U.S. DRONE STRIKES ACCIDENTALLY KILL AMERICAN, ITALIAN AL-QAEDA HOSTAGES.
PLEASE NOTE: Aside from the grammar points relating to these news items, this is a sad subject, and we offer condolences to the families involved.
Apparently the subject/verb agreement Glitch is reaching epidemic proportions. Here is an advertisement headline with the reverse problem. It appeared on my screen the other day as I tried to play Words with Friends:
NEW RULE LEAVE DRIVERS SURPRISED
In this one, the subject is RULE, which is singular. Therefore, the verb should be LEAVES, not LEAVE, which is plural. It should read: NEW RULE LEAVES DRIVERS SURPRISED. NOTE: I didn't bother to click and find out what the new rule is.
Tags: agreement, The Birmingham News