It is easy to bop a concept twice when you are writing something. We all do it. Common examples include using ALSO and AS WELL together, BOTH of the TWO people, ALL of the TOTAL income, and money earned ANNUALLY PER YEAR. These examples have appeared in previous Grammar Glitch posts.
I came across a new one in an article for The Birmingham News last week. In discussing gas prices, Leada Gore wrote this:
So how low can we go? According to AAA, prices are expected to continue to keep falling into 2016.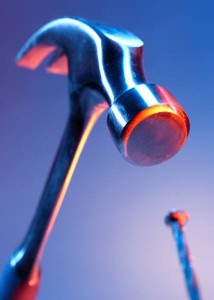 Whoops! Only one of the red phrases is needed. Either prices are expected TO CONTINUE FALLING or prices are expected TO KEEP FALLING. Bopping the nail on the head once will do!
The trick of a good writer–even a reporter who is on deadline–is to read back through and spot these redundancies before hitting the SEND button on the copy.
Tags: The Birmingham News, wordiness