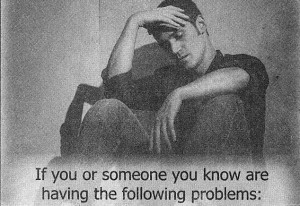 Two medical advertisements caught my eye this week because they did not use proper subject/verb agreement. Take a look at the first one at right.
YOU is one person. SOMEONE is also considered singular. They are connected by OR. Therefore, the verb should be IS. The caption should read this way:
If you or someone you know is having the following problems:
Here is the second ad statement:

The subject verb combination must be either SUFFERERS SAY (plural) or SUFFERER SAYS (singular). In this case, the rest of the statement refers to HER and HER FOOT AND LEG PAIN, so we need the singular version. This ad statement should read as follows:
"Former Peripheral Neuropathy Sufferer Says FREE REPORT Showed Her How to End Her Foot and Leg Pain Naturally and Quickly."