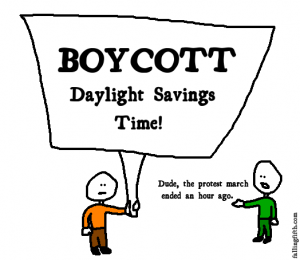 When President George Bush signed the legislation extending Daylight Saving Time by four weeks, I wonder if he realized how many people, including school children, would have to leave for work or school in the dark until April rolls around. In my part of Alabama, it was still pitch dark at 6:45 this morning. The days just aren't long enough yet.
That said, I'd like to point out that the official name of this "Spring Forward/Fall Back" ritual we follow every year (except in Arizona and Hawaii) is DAYLIGHT SAVING TIME, not SAVINGS TIME. The word SAVING is singular in this context.
A nod of approval from Grammar Glitch Central to John Oliver who used this correctly on "Last Week Tonight" in his hilarious "How is this still a Thing?" spoof of Daylight Saving Time.
NOTE: I added this update about John Oliver at 6:43 a.m. on March 11, and it is still pitch dark outside as kids in this neighborhood head out to the main road to catch their school buses.