I said I was back on schedule, but then yesterday, some "evil" prankster hacked my blog site. I owe a big thank you to my "web dean" for chasing away those ugly black eyes and getting the site back up and running within hours.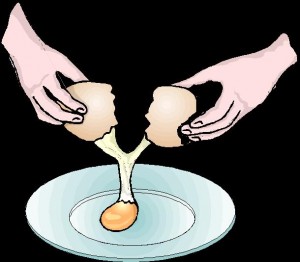 There is egg on my face today! If you read Grammar Glitch Central regularly, you know I say a lot about proofreading. Well, Monday morning early, as I read through some posts on another website, I came across a sentence with a Usage Glitch. Between yawns, I sent off an email, pointing out the error. (See below.) Later in the day, this good-natured person politely pointed out that I had added an extra letter to the end of a word in my message. It was a typo, but I SHOULD have caught it by proofreading. Mea culpa.
Here is the sentence I was a little too quick to correct:
All of the arts tend to compliment each other.
The word COMPLIMENT means to praise or flatter someone, as in Anatole complimented me on my writing style. Artists might COMPLIMENT each other's work, but I was fairly certain the word needed in this sentence was COMPLEMENT, which means to complete or bring to perfection, as in Her striped umbrella complements her trendy trenchcoat. (The good-natured writer agreed when she responded–it was early in the morning for her, too, and she had overlooked the Usage Glitch.)
She wanted to make the point that the various forms of art bring each other to perfection, which is a wonderful perspective. The sentence should read this way:
All of the arts tend to complement each other.
I hope you'll visit again tomorrow. I'll talk then about verb tenses and time frames, using some examples from an essay on chess written by one of my readers for whom English is a second language.