What I am reading and why
Wednesday, February 22, 2012–What I Am Reading and Why this week has to do with an invitation to read to a first period class at Berry Middle School a week from Friday. The school has invited local authors to choose from their favorite books and read a chapter or two, perhaps along with something from their own work.
I've spent time here and there over the past two weeks trying to decide what to read. My first choice was The Once and Future King by T. H. White, which has always been one of my favorite books. I loved Merlin in that one, and of course, it was the basis for 'Camelot." However, I just couldn't find the perfect passage to read.
My second choice was David McCulloch's John Adams, which is certainly the best biography I've ever read, but I couldn't find a passage I thought would grab the students' interest, and I couldn't think of a way to link it to my own work.
Finally, the perfect choice hit me. I plan to read the opening pages of Summer of My German Soldier, which tells about the German prisoner of war experience in Arkansas through the eyes of a young Jewish girl who just knows that something exciting is about to happen in her life. This links perfectly with a passage from Guests Behind the Barbed Wire that describes the arrival of the first German POWs in Aliceville, Alabama, in June 1943. I'm happy with my choice.
I'm also happy with the memory paths that this decision-making process brought to me. I was a sixteen-year-old American Field Service exchange student in Germany during the summer of 1961. Although I was not in Berlin, I left Bremen on the morning of August 13 that year–the day the wall went up. It is interesting to note that I barely mentioned the event in my trip diary. Who knew on that day that the barbed wire being strung in front of the Brandenburg Gate would be cemented over and stand for another 28 years!
This reading invitation also inspired me to drag out the record book I used to keep so faithfully, listing every book I read. I haven't made any entries for over a year, but I think I'll go back to it now. Not only is it wonderful to read, but it is also wonderful to have a good reason to think back through the things I've read in the past.
Friday, June 17, 2011–What I am Reading and Why this week is a book I first purchased 36 years ago when its author, Kathryn Tucker Windham, was only 57. She left us this week at the age of 93, after a long and successful career as a great writer and perhaps an even greater out loud storyteller.
As an aspiring writer myself in 1975, I had heard Kathryn read from 13 Alabama Ghosts and Jeffrey, a book my older son was also enjoying in his school library. Jeffrey, Kathryn always insisted with only a slight twinkle in her eye, lived with her and her children in Selma and created all kinds of mischief.
I bought Alabama, One Big Front Porch, not long after it was published because I love local history. Having moved to Birmingham from Ohio in 1970, I was happy to find a book that offered such flavor of Alabama history, and down through the years, I have gone back to it again and again for its fascinating stories about such things as Prince Madoc of Wales, who is said by some to have been the first to set foot on American soil; the grand tour of the Marquis de Lafayette for whom a number of Alabama locations are named; the night in 1833 that "Stars Fell on Alabama"; and the night much later when a meteor fell right through the roof of Mrs. Hodges' home in Sylacauga.
I have laughed until the tears came at the Homewood Public Library, at various writers' conferences, and each of the last five years at the Alabama Book Festival in Old Town in Montgomery as Kathryn continued to tell her stories. Birmingham News columnist John Archibald (www.blog.al.com/archiblog) described her stories well this week when he said, "They were a little history, a little adventure, a little romance and a hint of a smile." Kathryn is a true Alabama treasure who will be greatly missed.
I am so grateful to my friend Ruth Breipohl who invited my husband and me to travel to Selma with her and her husband this past New Year's Day to visit Kathryn's New Year's open house. After enjoying black eyed peas and turnip greens, along with some wonderful pecan cookies, I enjoyed wandering through the rooms that expressed Kathryn's personality. There were books everywhere (amidst numerous awards), grouped by religion or history or Alabama authors. In one room I came across a ladderback chair draped with nine hats Kathryn had worn while telling her stories. In another was the heavy black rotary dial telephone she was still using in 2011. In the backyard stood Kathryn's blue bottle tree, which legend says keeps evil spirits away.
The photograph at left shows Kathryn with my husband Barney who was born in Selma. I have another of myself with her as she told about interviewing the German POWs who were taken down to Dothan to harvest peanuts in 1943 while she was a young reporter for The Birmingham News.
Wednesday, April 27, 2011–It is with profound disappointment and even disillusionment that I write today about what I have just read and why. A friend directed me recently to www.byliner.com and Jon Krakauer's investigative piece called Three Cups of Deceit. There I discovered well-documented research suggesting that Greg Mortenson, author of Three Cups of Tea and Stones into Schools (See my review below from December 2010.), is not the compelling writer and humanitarian I believed him to be.
A few days after I began reading Krakauer's accusations, CBS broadcast a report on 60 Minutes that further questioned the accuracy of Mortenson's tales of being nursed back to health in the village of Korphe and of being kidnapped by Taliban and sought out by Kirghiz horsemen. Both Krakauer and CBS raised questions, too, about the financial practices of the Central Asia Institute that administers the millions of donations–even pennies from American school children–used to build schools, especially schools for girls, in Pakistan and Afghanistan. Not only was money used more for book promotion and fundraising than for building schools, but the numbers of successful schools had been greatly exaggerated.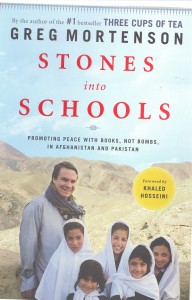 I find these discoveries disappointing, both from the standpoint of a reader who was mesmerized by the tales of this supposed humanitarian AND from the perspective of a writer who values the truth of a good non-fiction tale well told. While writing North Across the River and Guests Behind the Barbed Wire, I interviewed many people and collected many stories, but I always felt a profound responsibility to respect the memories and related experiences of those I wrote about. The same is true now as I work on a book about the history of the Sylacauga marble quarries here in Alabama.
You can read for yourself about the many people whose confidence Mortenson betrayed as he twisted and exaggerated–or shall I say, had his ghostwriters twist and exaggerate–in order to create two bestselling books and a book tour speech that held people spellbound. For myself, I am so glad I had to be in Naples, Florida, the week Mr. Mortenson appeared in Birmingham this spring. I was disappointed at the time, but I am relieved now that I didn't subject myself to more of the humiliation I already feel at having read both of his books and recommended them to many friends.
I will leave you with one unbelievable example of Mortenson's lack of responsibility for the truth. In Three Cups of Tea, Mortenson tells the poignant story of a layover in Calcutta in September 2000. He says he learned that Mother Teresa had died, and then tells the reader that he actually went to the Missionaries of Charity Motherhouse, knelt by the corpse of Mother Teresa and "placed his large palm over her small hand" while thinking about the huge impact this tiny person had had on humanity. In Three Cups of Deceit, Jon Krakauer points out that this could not possibly have happened because Mother Teresa died in September 1997, three years before Mortenson's layover in Calcutta.
Shame on you, Greg Mortenson. I feel like a sucker because of you. Although I know that authors are ultimately responsible for what they, and their ghostwriters, create, I am also surprised that Viking Penguin did not at least fact check somewhere along the line.
Monday, January 31, 2011–I enjoy historical fiction, but when I read it, I am always curious about what is historically true and what the author has chosen to invent. In Noah's Wife, named 2009 History Book of the Year by Foreword Magazine, T. K. Thorne does a beautiful job of weaving what is known about the great flood and the Biblical depiction of Noah with a fascinating main character, a number of desperate situations, and a compelling love story.
Thorne explains in her Postscript that Noah's wife is "barely mentioned and not directly named" in the Biblical flood story (Genesis 6 through 9). An earlier verse in Genesis (4:22) gives the genealogy of a woman named Na'amah that some Hebrew scholars believe identifies her as Noah's wife.
Once you begin reading the Prologue, set in the year 5521 BCE, this tale takes on a unique life of its own. The coming flood lurks and threatens, but the story of Na'amah and her relationship with two good men—Noah and Yanner—takes center stage. Thorne lets us know on that very first Prologue page that she has chosen to endow her main character with Asperger Syndrome, which the young girl describes as a "damaged mind." This fact affects the entire story as Na'amah reasons out decisions in her own special way. Noah, with his huge hands and huge heart, is a larger than life character you can see and hear as you read.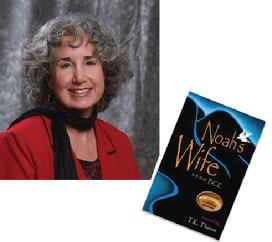 This is Thorne's first novel. Her writing style is strong and fluid, and she has a great ability to describe the places her characters inhabit. For more information, you can visit www.tkthorne.com.
T. K. Thorne is a retired police captain from the Birmingham, Alabama police force and serves now as executive director for CAP (City Action Partnership), a team of dedicated professionals who work in tandem with law enforcement, business, and government to make downtown Birmingham safe and friendly for all. Thorne is at work on a second book of fiction, this one about Lot's wife, and I look forward to hearing that it is in print and ready for a good read.
I have just finished Greg Mortenson's second book, Stones into Schools, and it has touched me just as profoundly as his first bestseller, Three Cups of Tea. Where the first book focused on Mortenson's amazing transformation from stranded mountain climber to unexpected humanitarian in Pakistan, Stones into Schools explains how his vision of schools for girls in remote, Taliban-challenged areas, expands to Afghanistan.
The core story in this second book begins in 1999 when fierce Kirghiz horsemen thunder out of the Wakhan Corridor of Afghanistan, locate Mortenson in Pakistan, and extract his promise to build a school for them at Bozai Gumbaz far up in the Pamir Mountains. Many schools and circumstances later, this promise is finally fulfilled.
This book paints for the reader a broad panorama of Afghanistan—not the foreign policy version or the military version—but the version of families hungry for education for their daughters as well as their sons. It portrays how hard these people are willing to work and what they are willing to risk to fulfill this dream.
Khaled Hosseini, author of The Kite Runner and A Thousand Splendid Suns, wrote the foreword, and he points out that Mortenson's philosophy is simple and direct—the conflict in Afghanistan will "not be won with guns and air strikes, but with books, notebooks, and pencils, the tools of socioeconomic well-being." Not only does Mortenson believe this, but he is doing everything in his power to make it happen. He and his CAI (Central Asia Institute) have now founded more than 130 schools in Afghanistan and Pakistan that provide education for nearly 60,000 students. Mortenson is not at odds with America's military leaders. One of the blurbs for this book is from Admiral Mike Mullen, Chairman of the Joint Chiefs of Staff, whose wife Deborah put Three Cups of Tea into his hands several years ago.
If you read one book during this holiday season that speaks of peace on earth and good will toward men—in this case, the most unexpected of men—do read Stones into Schools. More information about Greg Mortenson and the goals of the CAI is available at www.gregmortenson.com.
Thursday, November 4, 2010–This morning I had the privilege of attending a very special book signing, honoring the publication of an anthology titled Holding On. Three young women who have been studying creative writing at the Chalkville Campus of the Alabama Department of Youth Services read from their work and touched the hearts of everyone who listened to them.
L.D.J. read from her poem, "Destructive Addiction," which contained these powerful lines:
…The bottle in your hand
Anger bubbling like water on a stove
We hide in the basement
Not knowing when you'll explode…
K.M.M. read from her poem, "In the End":
I stumbled and fell,
but I got my life straight.
I stumbled and fell,
But I got my life straight.
I pushed myself forward,
But I was almost too late.
I just keep trying,
For my time will come.
Yeah, I just keep trying,
For my time will come.
Although not for many,
But for some.
These are powerful words, written and spoken from raw experience. I was surprised to realize this morning that it has been 13 years since the Alabama Writers' Forum began placing creative writing teachers on the Mt. Meigs, Chalkville, and Vacca campuses of Alabama's juvenile justice system. I am proud to be a member of the Board of Directors of this organization and to promote, wherever I can, its signature project of Writing Our Stories. I'm also extremely proud to call Priscilla Hancock Cooper, editor and instructor at Chalkville, a friend and colleague. Her work with these young women, over the past 13 years, is nothing short of awesome.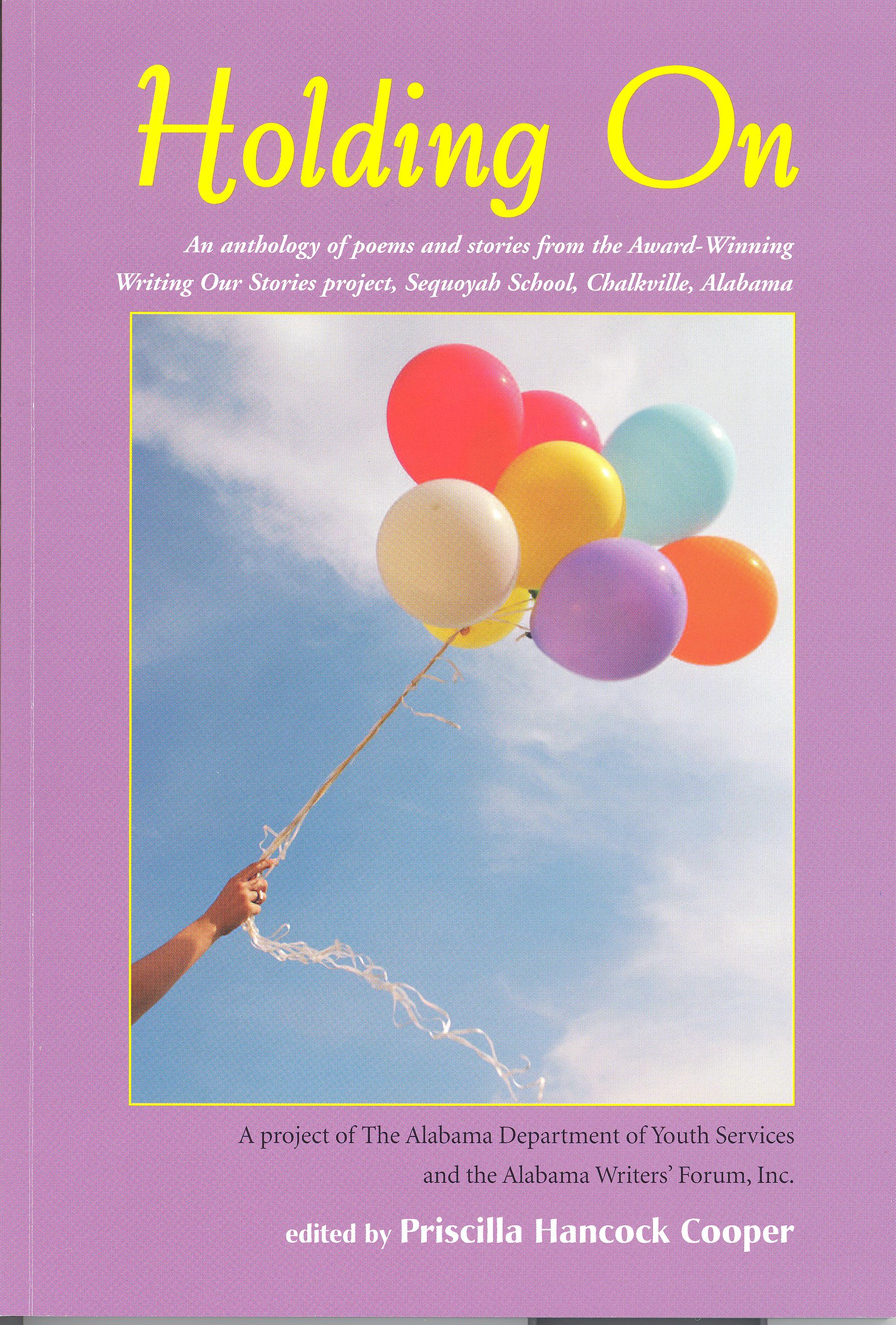 If you are a teacher or a writer and would like to read more of Holding On, you may contact me through my website at www.ruthbeaumontcook.com. It is a remarkable collection of true life poems and stories written by remarkable young women. You are also welcome to visit the websites of the organizations that sponsor this program, including the Alabama Writers Forum (www.writersforum.org), the Alabama State Council on the Arts (www.arts.state.al.us), the Department of Youth Services (www.dys.alabama.gov) and the Children's Trust Fund of Alabama (www.ctf.alabama.gov/).
**********************************************************************
Friday, October 15, 2010— My husband's daughter and her family are the proud owners of a two-year-old tortoise named Mildred (who since naming has turned out to be a boy). Mildred shares a birth date with our grandson Harrison and likes to roam around his bedroom and eat carrot pieces while he does his homework.
It was because of Mildred that I happened to pick up a copy of Julia Stewart's wonderful novel, The Tower, the Zoo, and the Tortoise. What a wonderful surprise of a story! I won't give you the plot, but who knew there had ever been a menagerie in the Tower of London? I certainly didn't know Henry VIII kept a polar bear that was allowed to fish (while on a leash) in the Thames. Balthazar Jones, a former Beefeater who is setting up the new menagerie, and his wife Hebe, who works at the Department of Lost Things for the London Underground, are eccentric and fascinating characters, along with a host of others.
If you are looking for a fun read that is packed with quirky historical references and English oddities, don't miss this one. I love the comment of Stewart's editor, Allison Callahan, who says of this book, "It's as funny as it is poignant. It hits all the right notes." You can find it at www.amazon.com.